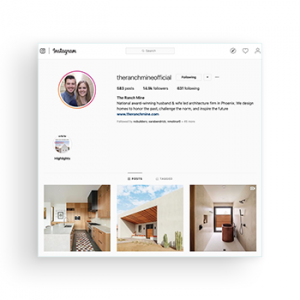 Instagram for Architects
We all know Instagram for its straight forward mobile interface of beautiful scrolling images; a social media platform that is as simple to produce content as it is to consume it. Just 2 simple clicks on your smart phone… and you've posted a picture to your feed.
Instagram is great for taking a break from work or wasting away hours of your day… that's true. But can Instagram for Architects also be a place to find clients?
At this episode of EntreArchitect Podcast, our guest says that 90% of his current projects have come as a result of his work on Instagram.
Listen in as Mark R. LePage welcomes Cavin Costello of The Ranch Mine back to the show to talk about How To Use Instagram To Find The Projects You Want.
---
Referenced in This Episode
Episode 138: How To Design and Sell Modern Architecture
Episode 154: How To Succeed as a Married Couple in Architecture
Episode 225: Growing Beyond the Sole Proprietor
Visit The Ranch Mine at their website
Follow The Ranch Mine on Instagram
The EntreArchitect Community on Facebook
Visit Our Platform Sponsors
Freshbooks is the easy way to send invoices, manage expenses, and track your time. Access your free 30 day trial at EntreArchitect.com/FreshBooks. (Enter EntreArchitect)

ARCAT has huge libraries of free content, Specs, CAD, BIM and more. No registration required. Want to collaborate with colleagues in real time? Visit EntreArchitect.com/ARCAT and click Charrette for more information.
Gusto is making payroll, benefits, and HR easy for small businesses. Learn more at EntreArchitect.com/Gusto.
Download Our Powerful Profit Tools… for FREE
The EntreArchitect Profit Calculator
The EntreArchitect Hourly Billing Rate Calculator
The post EA263: How To Use Instagram To Find The Projects You Want appeared first on EntreArchitect // Small Firm Entrepreneur Architects.