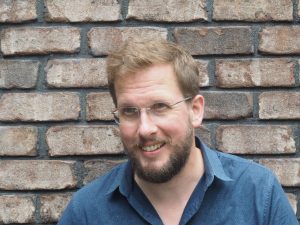 How to Brand a Modern Residential Architecture Firm
A quarter century of experience in the world of design and construction comes to bear on Toby Witte's work. German by heritage and upbringing, born in Peru, Toby has had the privilege to study architecture, building science, drafting, and construction in Germany and in the USA.
Between various employments with architect, engineering, and construction firms, he graduated cum laude from the School of Architecture at UNCC. He ran his previous design/build companies Dialect Design and Qube11 for over a decade until he founded Wittehaus.
In 2004 he received the Medal & Henry Adams Certificate of Merit by The American Institute of Architects. And in 2018 the 3rd People's Choice Award of the North Carolina Modernist Houses Matsumoto Prize.
To learn, grow , and contribute Toby has been an active member of the American Institute of Architects, the National Organization of Minority Architects, Brick & Wonder, EntreArchitect ASG Mastermind, and the German American Chambers of Commerce.
When Toby parks his pencil he lets himself be sucked in by a vibrant family life centered around his wife, an early education teacher, and their three powerhouse daughters. He cooks, reads, travels, plays two chords on the guitar and loves a good beer.
This week at EntreArchitect Podcast, How to Brand a Modern Residential Architecture Firm with Toby Witte. 
Connect with Toby at Wittehaus, or follow him on Instagram, LinkedIn, Twitter, and Facebook.
---
Please visit Our Platform Sponsors
ARCAT is the online resource delivering quality building material information, CAD details, BIM, Specs, and more… all for free. Visit ARCAT now and subscribe to ARCATECT Weekly and ARCATAlert.
Freshbooks is the all in one bookkeeping software that can save your small architecture firm both time and money by simplifying the hard parts of running your own business. Try Freshbooks for 30 days for FREE at EntreArchitect.com/Freshbooks.
Visit our Platform Sponsors today and thank them for supporting YOU… The EntreArchitect Community of small firm architects.
---
Marketing Tools Mentioned in This Episode
Google Workspace (Server, File Sharing, email set up, ect)
Google Docs, Sheets, Slides, Gmail, Calendar (Officework, Documents, Communication)
Google Keep (Note Taking)
Cloudally (Cloud Backup)
Monday.com (whiteboard for project planning, goal setting, sales tracking and forecasting)
Slack (in house communication)
Clockify (time keeping for planning only)
Mailchimp (prospect email campaigns, mailers)
Calendly (appointment setup)
Zapier (connecting apps to each other)
Squarespace (website, blog, online shop)
Tidio (chatbot on website)
Google Analytics (finding out what all of this is doing)
Click2Mail (print-on-demand brochures)
Poplar (print-on-demand postcards)
Printful (pint-on-demand swag shop)
Taxjar (sales taxes for swag shop)
Adobe Premiere Rush (weekly movies)
Youtube, IGTV (hosting weekly movies)
Houzz Pro (paid platform marketing and lead generation)
instagram, Facebook, Twitter, Google (social media posts and ads)
Pinterest (client inspiration research)
Linkedin (networking)
The post EA438: Toby Witte – How to Brand a Modern Residential Architecture Firm appeared first on EntreArchitect // Small Firm Entrepreneur Architects.