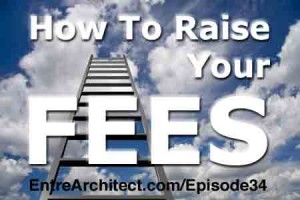 When Annmarie and I launched Fivecat Studio back in 1999, we took the work we could get and charged what we thought our clients wanted to pay.
As we matured as architects and grew as a business, we learned that we needed to make more money in order to build a better business.
Are you in this same position? Are you working too hard and earning too little? This week on the Entrepreneur Architect Podcast, I talk about how to raise your fees.
Please review the podcast on iTunes.
Links Referenced in This Episode
EA033: Architects Creating Homes with Rand Soellner [Podcast]
25 Architects You Should Follow on Twitter
Purchase my Hybrid Proposal for Architectural Services
***
Photo Copyright: rolffimages / 123RF Stock Photo
The post EA034: How to Raise Your Fees [Podcast] appeared first on EntreArchitect // Small Firm Entrepreneur Architects.